I had a cooking frenzy, preparing everything I got from the farmers market on Saturday in one day, able then to for the rest of the week without doing anything but reheating when necessary. I open my fridge now... and it's delicious and colorful and inviting.
I could certainly use a digital camera with a micro function, as my photos seem to be blurrier the smaller the thing I try to capture.
The Best Hummus I've Ever Made
I made this first so I'd have something to nibble while I cooked. This, with a cool beer, was my summer equivelent to noshing on red wine and bread in the winter.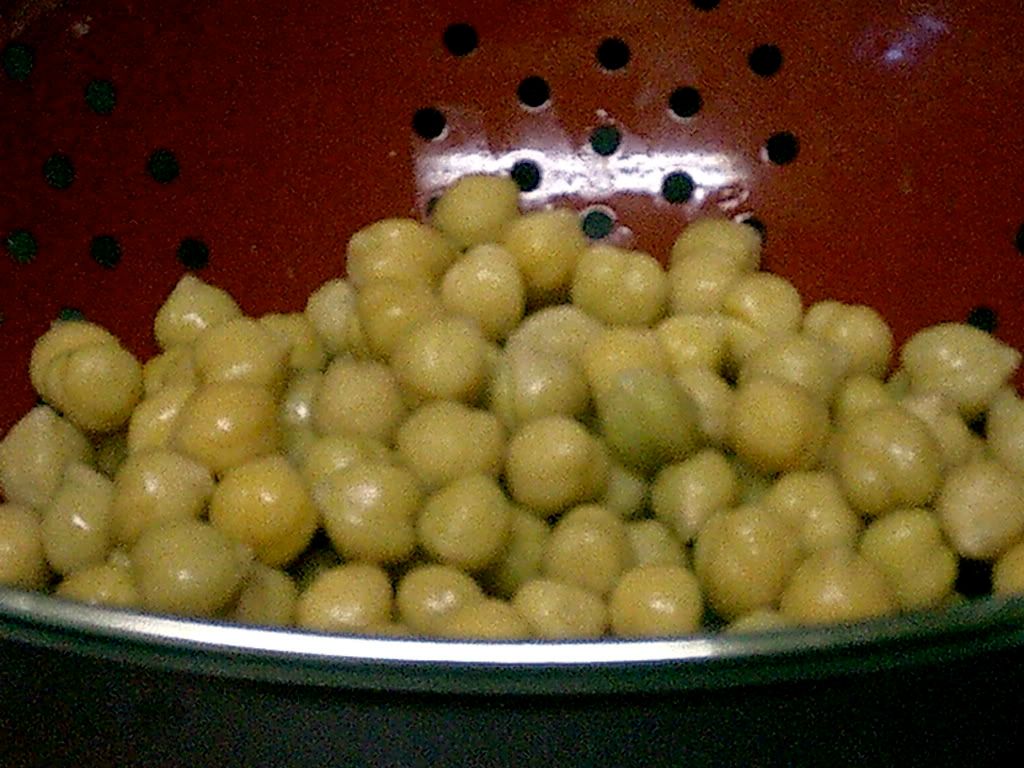 One can chickpeas
Four garlic cloves
1/4 cup plus 2 tablespoons extra-virgin olive oil, divided
4 tablespoons tahini, divided
salt and pepper
juice of a lemon, divided
Cumin
Hot Hungarian Paprika
Rinse and drain the chickpeas. Save a few for garnish (they're so cute). Place in a blender with the garlic, 1/4 c. olive oil, 2 tablespoons of tahini and the juice of half a lemon. Blitz until smooth and creamy. If you need to, adjust the amount of olive oil to achieve a smooth consistency. Pour into a bowl and clean out the food processor. Well, I used a mini-prep, which is definitely all you need for this next bit, or you might want to just use a whisk. However you do it, whisk together 2 tablespoons olive oil, 2 tablespoons tahini, the juice of half a lemon, salt and pepper. Drizzle this on top of the hummus. Toss the reserved chickpeas on top and sprinkle with cumin and paprika. Amazing.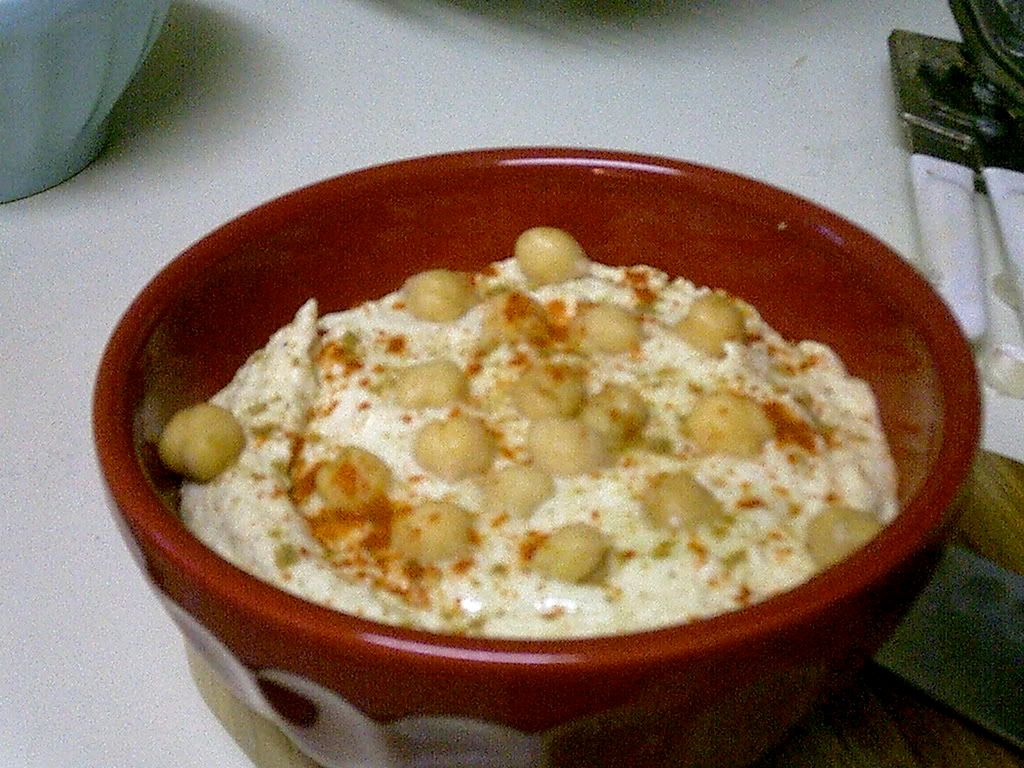 Hummus is genius.

Black Eyed Peas and Fried Rice with Spicy Collard Greens
This was *so good* I ate it for three straight days.
For Collard Greens:
One bunch of fresh collard greens, thick stems removed, and leaves sliced
Half a yellow onion, diced
Four garlic cloves, minced
A large handful of lentil sprouts
One tablespoon extra-virgin olive oil
Three slices of tempeh bacon, cut into bite-sized bits
One jalapeno, minced
Two tablespoons cider vinegar
Juice of half a lemon
Bring a large pot of water to a boil. Add the greens and cook for 20 mintues, until the leaves are soft but still bright green. Drain, reserving 1/2 cup of the cooking water. Heat the olive oil in a skillet. Add the onion, jalapeno, lentil sprouts and tempeh bacon and cook for 7 minutes, till soft. Add the garlic and cook for 30 seconds. Then, add the greens and toss. Squeeze the lemon over, drizzle with the vinegar, and pour 1/4 c. of the reserved cooking water over. Cover the pan and let cook until the greens are cooked, which takes approximately 10 minutes. Pour the greens into a serving bowl. Keep the pan hot, because you're about to use it for the rice and beans!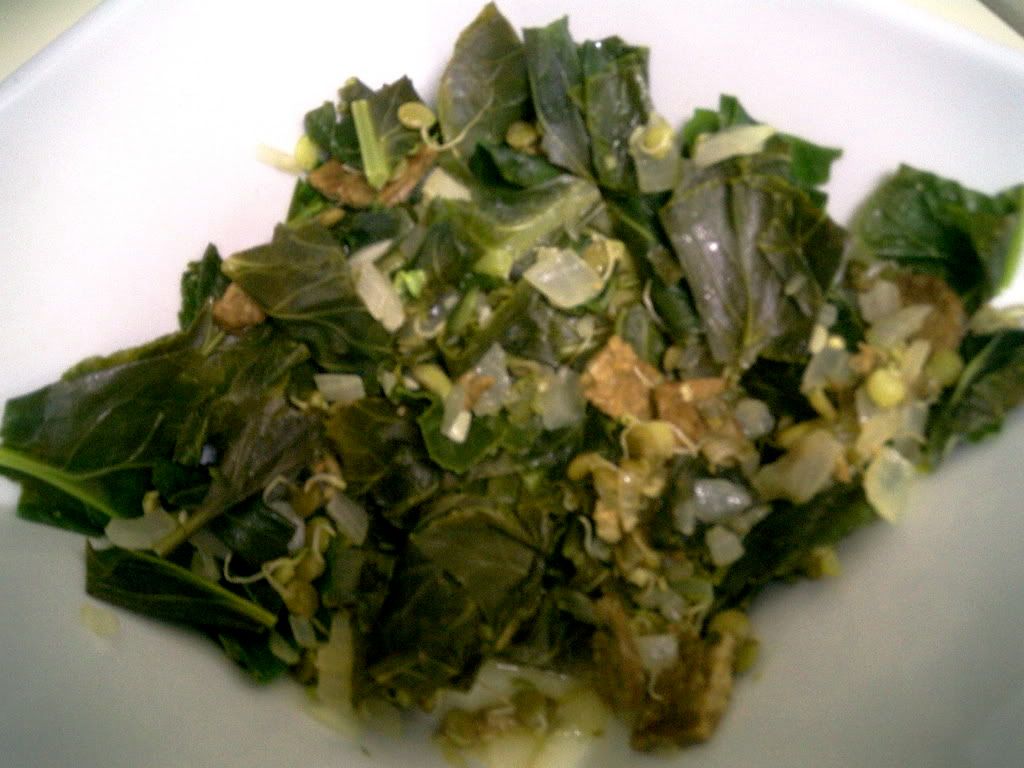 For Beans and Rice:
About a cup and a half leftover brown rice
One can of rinsed and drained black-eyed peas
One tablespoon extra-virgin olive oil
Pour the olive oil into the pan and let it heat for a few seconds. Add the rice and peas and cook till heated through. This part is definitely just 'getting it hot' more than 'cooking'. The rice will get a little crispy, which is nice. Add the last 1/4 c. cooking water from the greens to soften the rice and steam it a little. Pour the rice and beans into a bowl off the heat.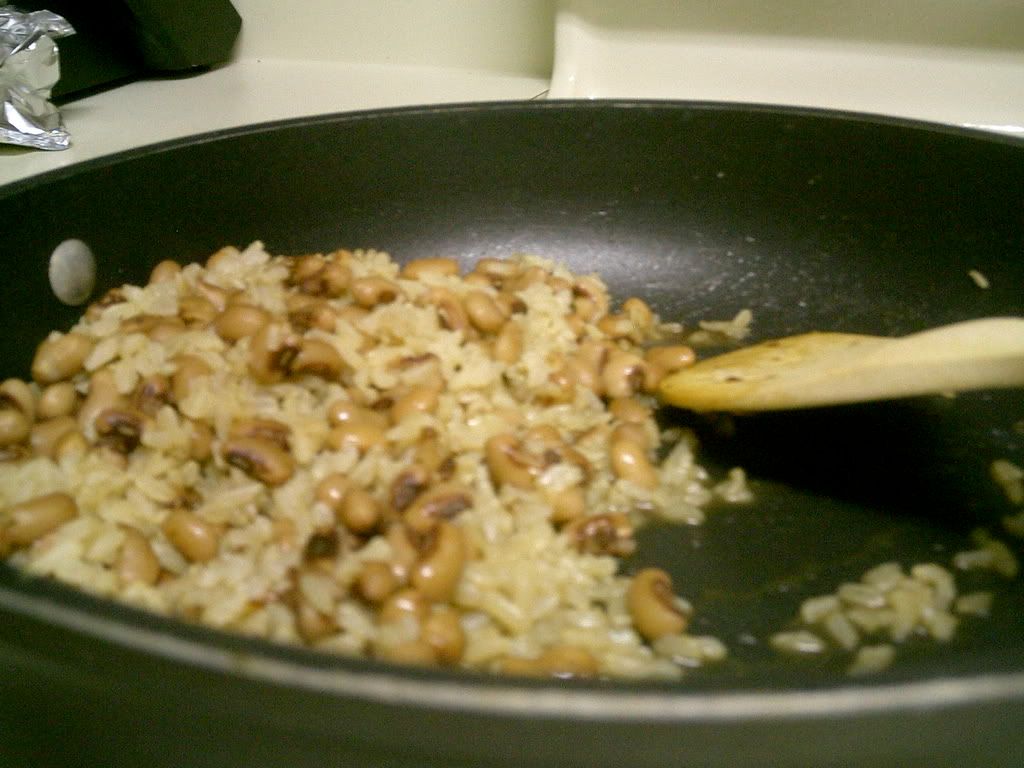 For Sauce:
Two tablespoons cider vinegar
Two tablespoons honey
One teaspoon cumin
Two teaspoons cayenne pepper
Two tablespoons extra-virgin olive oil.
Simple sauce: whisk these things together.
To assemble, mix the sauce with the rice and beans. Make a bed of greens on a plate and top with a scoop of rice and beans. It's mildly spicy, definitely sweet.

Potato Pancakes with Red and Yellow Pepper Pesto
This pesto is simple, requiring less olive oil than most pestos (because of the pepper's juiciness), which means it's lower in fat and calories. Since there is no cheese, it's vegan, but you could add some parmesan if you'd like. I don't think it needs it. I also didn't have any nuts on hand so I didn't add any, but it's already extremely flavorful. It's great on a sandwich or as a dip for tortilla chips!

The potato pancakes are modified from the Deborah Madson book (everything I make is modified if it came from somewhere else. I usually don't have exactly everything I need, and sometimes, I just don't want to add everything it calls for, or I want to add more, or different). Potatoes and cheese are each in my top five favorite foods, so these are like a dream. Also, most of my pancakes fall apart, but using mashed potatoes keeps these together, which, honestly, is possibly the best thing ever (today).

For Pesto:
Two large peppers (I used one red and one yellow)
One bunch of basil
Three garlic cloves
1/4 c. extra-virgin olive oil
Salt and Pepper
Wash the peppers and dry them thoroughly. Heat the broiler in your oven. Usually, you'd put a whole pepper in on a pan in the top rack of the oven and turn the peppers till they're all charred, but my top rack put the peppers way too close to the heat source, and I cut them in half and just moved them around. So, if your oven is like mine, half the peppers and put them in the oven on a pan on the top rack and move them around a bit till they're charred all over. Remove them from the oven and put them directly into a metal bowl. Cover the bowl with plastic wrap or tin foil and a tea towel and let them cool. Once they reach a temperature you can work with, peel the skins off and discard the skin, seeds and stems.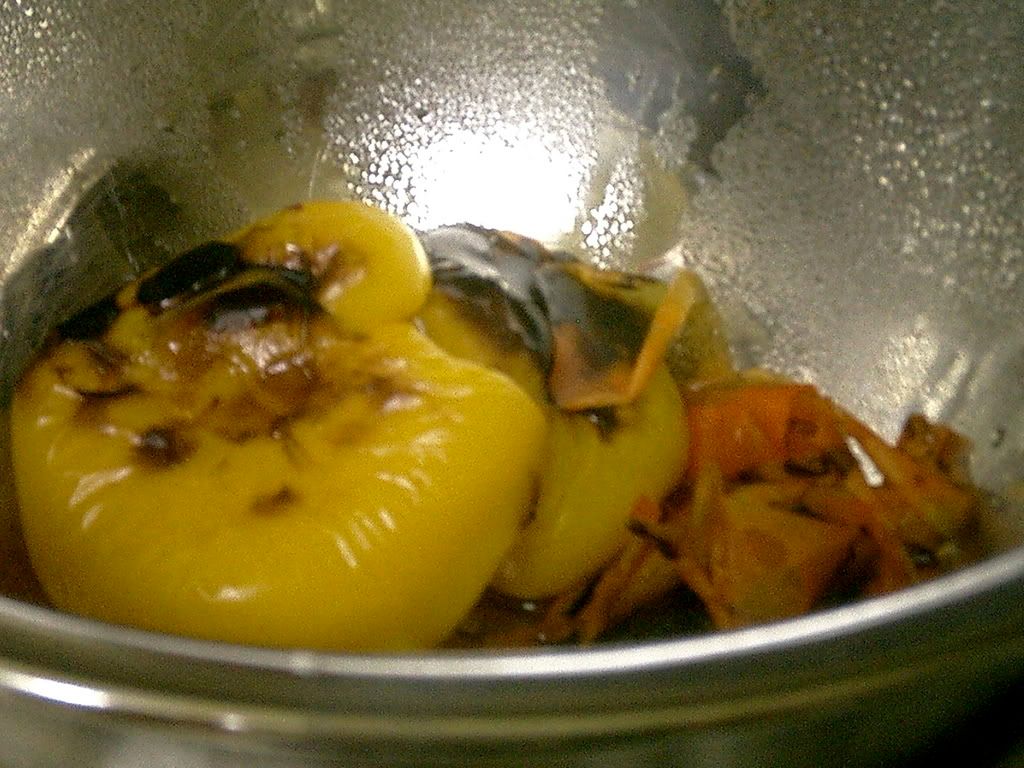 Roughly chop the body of the peppers and put them into a food processor with the three peeled garlic cloves and a handful of basil. Pulse the mix until it is chunky. Then, while the processor is running, slowly and in a steady stream pour in the olive oil. Don't let it get too smooth - it's a nice sauce but it's even better with a little chunkiness of the peppers! Add salt and pepper to your taste.
For the Potato Pancakes:
About a pound and a half of tiny red potatoes, quartered, peels on
1 tablespoon extra-virgin olive oil
1 jalepino (remove the seeds if you like), minced
1/2 onion, chopped
a handful of cilantro, to taste, chopped
a bunch of scallions, diced (white and green parts)
about a cup of shredded cheddar cheese
1 egg, whisked
a plate of Panko
chives
Put the potatoes in a pot and cover over with water. Boil the potatoes till fork-tender, which takes approximately 20 mintues. Don't forget to salt the water first! Potatoes love salt. Drain the potatoes and mash them with a fork till they're chunky. Apparently, the key to this dish is chunkiness. Then, stir in the jalepino, onion, cilantro, scallions, cheese and egg. Using your hands, form the mix into whatever size patties you like. Heat the oil in a nonstick pan. Press the pancakes into the panko, covering each side. Place the cakes onto the pan and let them cook approximately 3 minutes per side. Check them to make sure - they should get a nice golden color on the outside and be warm throughout.

To assemble, place 2 pancakes on a plate and drizzle with the pesto and top with freshly cut chives. This is a total celebration of vegetable tastes.

And still to come... Beets with Basil Goat Cheese Toasts, Japanese Tomato Salad (modified from this month's Food and Wine, and photographed below).