I so desperately want a camera with a macro capacity! Soon. For now I have to pay off a few other things... but someday.... soon... my pictures will be in focus, and then I can concentrate on framing instead of getting far enough away to be in focus but close enough to focus on the food....
So. I got a bottle of Gates BBQ Sauce as a thank you for dog-sitting. It was a nice surprise, given that I wasn't really expecting anything, and that I LOVE Gates! It's a famous restaurant in Kansas City that serves all kinds of meaty meat things, but since I do love the sauce, I decided to make a vegetarian version. I've also been reading about how to get crispy pan-fried tofu. I love when the exterior is crisp. I really don't like it at all if its mushy, through and through. It has to be crispy outside. I've tried many times, cooking it longer, using less oil, using more oil, heating the pan to a higher temperature. And after many tries, I came upon the secret one day while searching the Internet. I found it on
The Kitchen at Apartment Therapy
, but it's a secret I've since seen everywhere (it seems). It's corn starch. Toss the tofu with corn starch and then pan fry it and voila! Crispy crust. Delicate interior. The perfect vehicle for my bottle of sweet, hot sauce.
I also recently bought a rice cooker. For a long time, it seemed like a useless indulgence. Why would I need a rice cooker when I could just cook rice in a pot, which I already have? Then, again, I saw a discussion online, where the blogger asked (I forget which blog, I'm sorry! If it's you, let me know) whether or not they should get a rice cooker, and out of 50 or so responses, ALL of them were pro-cooker. So... I began to think that maybe they are better than a pot. I promptly got one at target, a medium-sized one since I live alone and don't cook for huge groups that often, with a keep warm function and a vegetable steamer. And I have to admit, it's great. It cooks the rice perfectly every time, and keeps it warm, it frees up a burner on the stove, it doesn't heat up my already warm apartment, and it's a snap to clean. If you like to eat rice, I highly advise one!
In addition to being inspired by the barbecue sauce, rice maker and new way to cook tofu, I decided to make a sort of Southwest-Asian fusion dish. Ish. With kind of Mexican flavors. Basically, I had all this stuff in my pantry and didn't want to go shopping. And it was so simple, just basic recipes that I've made so often they're already in my head all the time, without even needing to consult the internet or a cookbook for.
For me, this is very exciting. I always use a recipe. I might modify the recipe, but I don't go without that often. I have been trying to get away from my reliance on the printed word, but I still have trouble knowing how to match things, combine flavors, correct acidity or sweetness, create a correct ingredient proportion, etc. So this dinner, finally, turned out successfully, and I already knew how to throw it together myself. Exciting!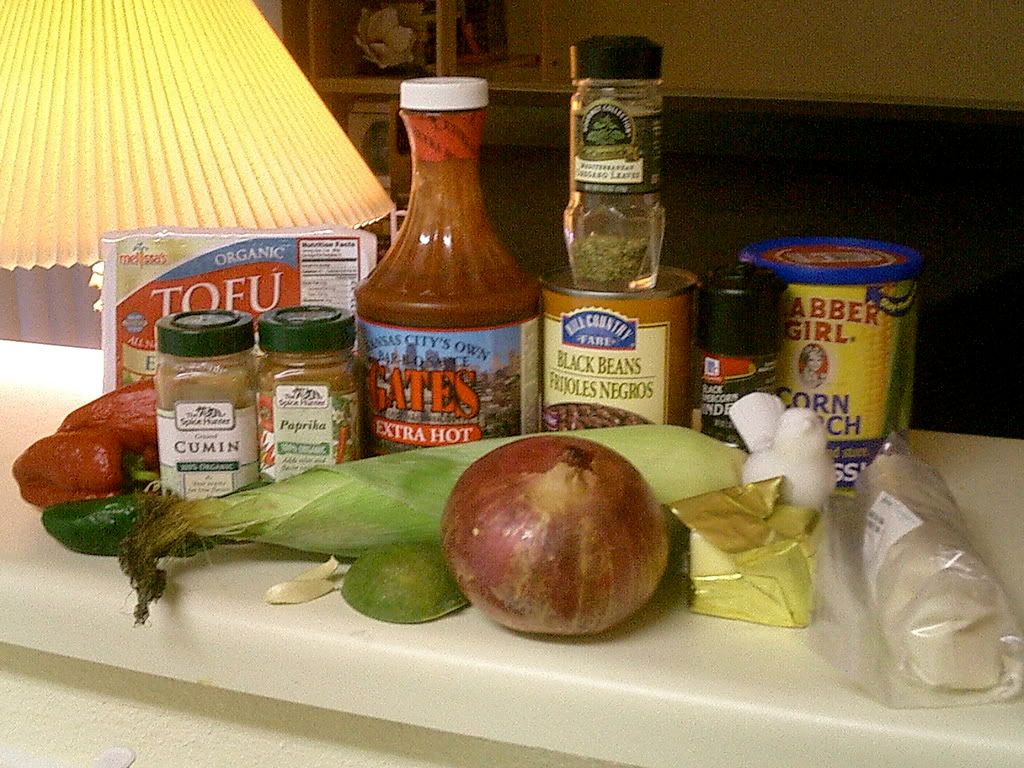 Barbecued Okra and Tofu with Fresh Corn and Black Bean Salad
For Tofu:
One 14 oz. package firm tofu
1/3 c. cornstarch
a good drizzle of olive oil
1 c. sliced, frozen okra (or fresh, if you're so lucky)
1 c. barbecue sauce
2 c. cooked brown rice
Dice the tofu into bite-sized squares and press between 2 paper towels to remove excess water. Toss the cubes with corn starch to coat evenly, then remove the excess corn starch. Heat a large skillet drizzled with olive oil over medium heat. Add the tofu to the pan and cook without disruption for 1 minute. Flip the tofu and allow to sit another minute. Continue until all the sides are golden. Add salt and pepper, toss, and remove from the pan. In the same pan, heat a little bit more oil and add the okra, cooking till heated through. Add tofu back to the pan and add 3/4 c. barbecue sauce. Stir to combine remove from heat. Serve with prepared brown rice.
For Salad:
One ear of corn
1/2 tbsp. Earth Balance
1/2 small onion, diced
1 garlic clove, minced
1/2 tsp. dried oregano
1/2 chopped, seeded jalapeno
1/2 tsp. cumin
1/2 tsp. paprika
1 can of black beans, rinsed and drained
Cut the kernels off the cob. Set aside. Melt the Earth Balance in a pan over medium heat. Add the onion and saute until soft and translucent, approximately 4 minutes. Add the garlic and oregano. Mix into the onion and cook 30 seconds. Add the corn and the jalapeno and cook until the corn is soft, about 4 minutes. Add the cumin, paprika and black beans and cook until heated through. Salt and pepper to taste.