It's been hot here lately (a record number of days over 100 degrees and it's only just July) so I've been taking my pooches to the dog parks with water. Poor shy Talah, she just isn't comfortable around a lot of people, so I take her to the more popular spots on weekdays when I'm off, so she doesn't get too overwhelmed with crowds. Since it's Thursday, we went to Barton Springs.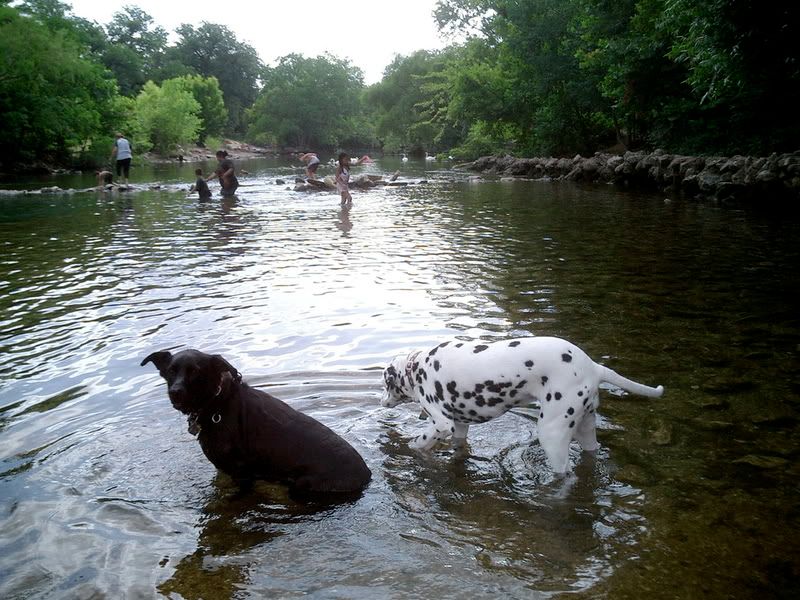 There's an official side, with a real pool in the springs with lanes and a diving board and lifeguards and everything, but I've never been there. No, when I go to the springs, it's to the unofficial outside section. The water in the springs is clear and bright, and the area shaded by huge trees and lined on both sides by a walking path that leads to Ladybird Lake (nee Town Lake). People come with their kids, their significant others, their beers (despite all signs indicating that their beers are not welcome), and most importantly, their dogs.
I like to come here because I find it very peaceful, even while it teems with life. It's close to town, which makes it very convenient for the city dwellers. Austinites, I think, are lucky to have such a green city - and in this case, I mean literally green, with greenbelts of protected land, springs, lakes, etc. I've lived in other cities where finding park space is much more of a luxury, while here, the people all get to live in it.
I've recently stopped bringing my cell phone and Ipod with me when I take the dogs out. They are too distracting. Walking my dogs, taking them to the water, taking the time to go out into these parks, has come to be a relaxing time where I don't need any distraction. I think that's probably a testament to their beauty!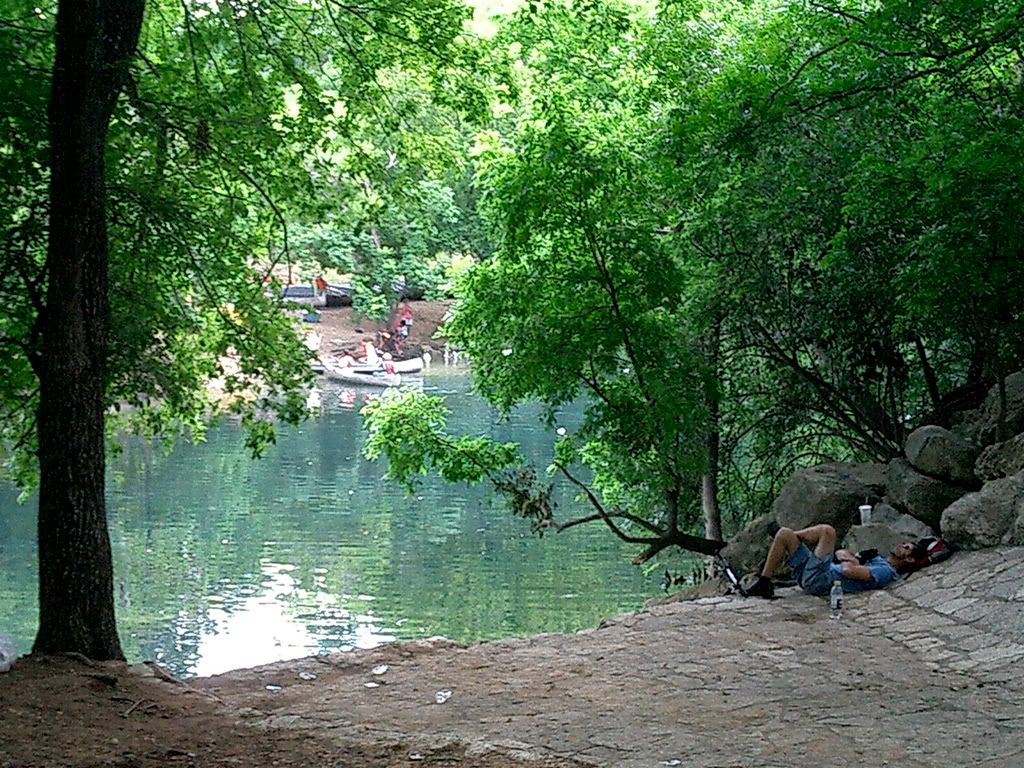 This guy clearly agrees with me.
*** *** *** *** *** *** *** *** *** *** *** *** *** *** ***
I made a delicious dinner last week, out of components I found in various places. I am learning how to make more complex meals at this point. Growing up, we ate good food, but my parents were far from experimental with their dinners. There was a meat, a starch, and a vegetable. Sometimes, there was also a salad. Mostly with iceberg lettuce. Mostly, the vegetables were out of a can. It was good and balanced and nutritious, but they weren't the type to investigate new spices.

I am currently a vegetarian, so that trio of foods no longer works for me. :) Also, I do like to try new things, and pair things up, but since I don't have too much experience... it's can be a challenge! At first, it was a challenge to figure out what to do to replace the meat centerpiece of a meal... luckily, there are a lot of alternatives.

I also try to eat local, organic food. Living in Austin, I'm pretty lucky that a lot of good food grows around here! So, on Saturdays I'll go to the farmer's market and buy what I want, and then get to truly experiment designing menus that use these in season goodies!

This weekend: okra, mushrooms, tiny red peppers.
I really wanted to feature the mushrooms, so I found a recipe online for a mushroom sauce. I didn't want to make pasta, so I decided to use the sauce on some patties and some grains. Luckily, my co-marketer is good at designing recpies, and came up with these delicious okra patties.

First: the fritters. I'm not good with a patty. They always seem to run all over the place or not cook inside. K. designed these ones to be baked, not fried, which took some of the stress off of my fear of pan-cooking them. It's basically a mound of crumbled tofu, peppers, and veeeery thinly sliced okra, with egg and panko as binders.
They cook in the oven for about half an hour, during which time I made a thick mushroom sauce. The sauce is basically sliced mushrooms (baby bellas, to be exact) with garlic and onions, simmered in red wine and vegetable broth, which is thickened with some flour. It's not the most complicated thing, but it definitely features the mushrooms.
For the sake of photography, I put some fritters on some quinoa and topped them with mushroom sauce. It looks a little... brown... and not that exciting... but it was good! Did I mention I'm new to this blogging/photography thing too?