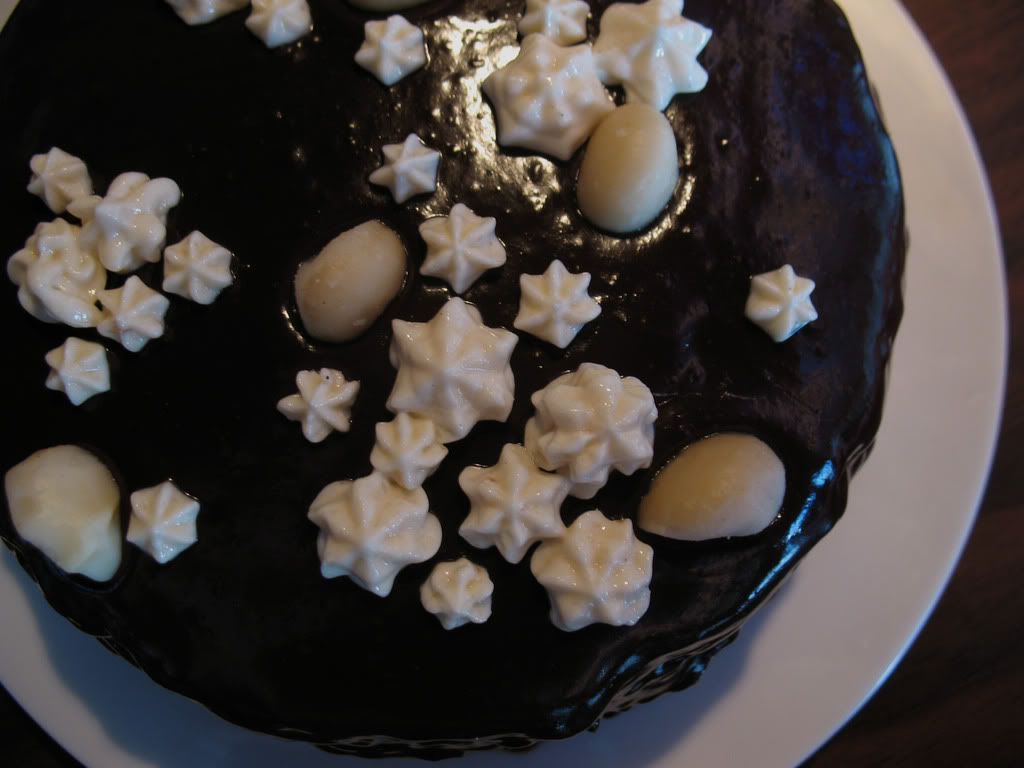 This month is the first that I was a part of the Daring Baker Challenge!  I joined this group because I have almost no baking experience, and wanted to get some.  Of course, I also (clearly) like to start out by throwing myself into the fire.  This month's recipe: Filbert Gateau with Praline Buttercream.
Um, wow.  Impressive.  Actually, I wasn't as nervous as I thought I would be.  It looked like it would take a long time to make, but not like it would be totally overwhelming.  So... good.  :)
The cake has a TON of steps: one filbert genoise (I substituted a different nut), dark rum flavored simple syrup, praline butter cream, whipped heavy cream, fruit jam glaze, ganache, and toasted nuts.  It had to involve nuts and butter cream on top (I'm not a huge icing fan, so I decided to keep that to a minimum.).
For the cake: I made a four layer, 4" round cake, which required a half batch of the gateau recipe.  For the nut, I used macademia, instead of the filbert.  I had a lot of macademias on had, so it seemed like a good pick.  For the fruit glaze: I used pineapple preserves.  Pineapples and macademias!  Perfectly tropical, and decadent.  

The most difficult part for me was caramelizing the sugar to make the praline for the butter cream.  I have tried to make caramel before and it turned out burned, hard and generally aweful.  But this time - perfect!  The sugar melted from the inside of the pan out. Look at that!  Beautiful.  
There is also a lot of nuts being made into fine meals, and I was concerned that I would accidentally blitz too much and make a butter.  Luckily, I only have a mini-prep (who says that??) and so I was able to keep from overgrating.  
Also, I hear a lot of horror stories about making buttercream, but mine came together all at once.  I don't know - beginner's luck.  I might leave it at that, though... because as it turns out, I don't like icing (ick) and I particularly don't like buttercream.  So, a talent, wasted.  
It sure looks nice, though.
I have also never made a cake with layers, by cutting one pan's worth of cake horizontally into very thin slices.  This was one of the harder parts.  If you have some fancy cake-making stuff, something round that spins so you can keep your knife still and move the cake, it's apparently much easier.  I had to make do with my hands and a lot of micro-turns.  It's not very even, but... luckily that icing was there to even it out!
The ganache is beautiful.  So shiny.  Almost too shiny to photography... and delicious... almost too delicious to eat... mmmmm.... 
The end result?  I think it's very beautiful.  It's not my personal taste in food, and it's so much heavier than most food that I eat, even dessert.  But... it's good to look at.  And I'm impressed that I made it!  In that way, this challenge really did push me.  Because it forced me outside of my box in oh, so many ways - baking, complex recipes, taste, richness... I like to explore.  
Be careful, though.  This cake will come for you!