Tomatoes with Sesame-Miso Sauce
(modified from the August 2008 Food and Wine Magazine)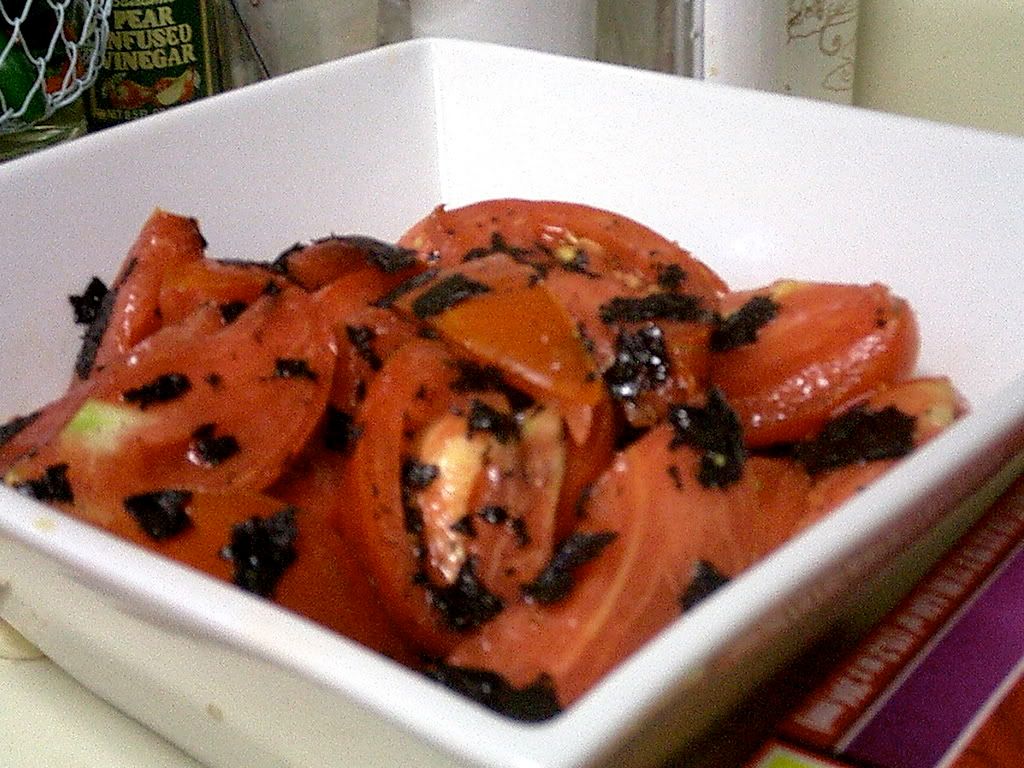 1/4 c. veganaise
2 tbsp. miso paste
1 1/2 tsp sake
3 tbsp. water
1 tbsp. red wine vinegar
juice of a lemon
1/2 tbsp. mirin
1 tbsp. extra virgin olive oil
five huge tomatoes
1 crumbled sheet of nori
Toast the sesame seeds in a dry pan till golden, approximately 3 minutes. Make sure you toss to toast on all sides of the seeds! Transfer to a mortar and pestle and mash into a fine dust. Whisk the seeds with the veganaise, miso and sake, then whisk in the water. In a separate bowl, whisk the vinegar, lemon juice and mirin. Gradually, in a steady stream, whisk in the olive oil. Add the tomatoes and toss to coat. Top the tomatoes with the crumbled nori. Serve the tomatoes with their juices on a plate, topped with a dollop of the sesame sauce.
What I changed: The magazine called for mayonaise, but I use veganaise at home. This also allows the recipe to be completely vegan (I think - let me know if you know that any of these ingredients aren't vegan). The recipe called for ume, which is a Japanese plum vinegar, but they didn't have any in the Asian aisle at the grocery store, and I didn't have time to go to the Asia market, so I just used regular vinegar to provide a kick but without the flavor. I cut a little sesame oil from the vinaigrette, because I think the toasted sesame seeds are potent enough on their own, but you could add it back if you love sesame. Also, here I cut the vinagrette in half. I can almost always cut dressing in half, because my preference is a light coating and not a large pool of dressing. Also, the juice from the tomatoes adds a lot of volume to the liquid, in a healthy way. So, if you want, double everything from the vinegar on (except the tomatoes and the nori).
Beet and Goat Cheese Sandwich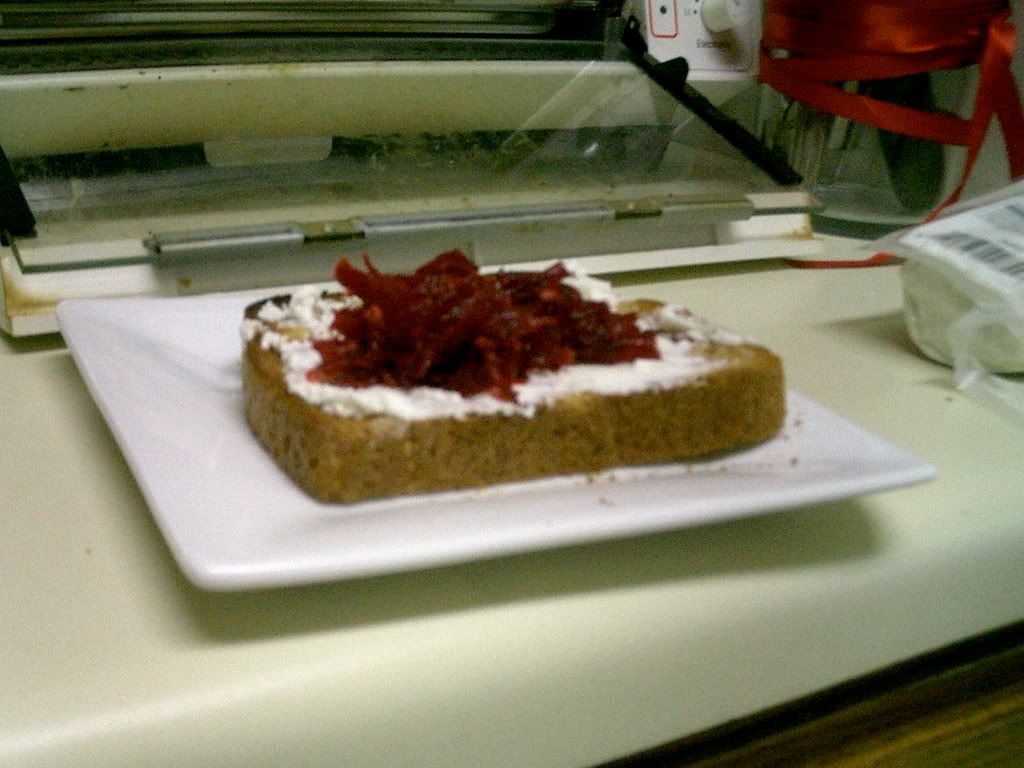 3 beets, tops and tails removed, halved
1 garlic clove, crushed
salt and pepper to taste
goat cheese (I used a basil herbed goat cheese, but any kind is good)
2 pieces toasted whole wheat bread
Place the beets in a large, deep pot and fill the pot with water, about 1" higher than the beets. Bring the water to a boil and simmer until the beets are fork-tender all the way through, which takes about an hour. Make sure to use a high-walled pot for this, or beet colored water might end up all over your oven and counter top. Beet colored water can very easily stain surfaces (in fact, if you want to use this as a dye for some fabric when you're done, go ahead! It makes a lovely color). When the beets are tender, drain them and let them cool completely. They can keep a couple of days in the fridge like this, so if you're going to be in the kitchen doing something for a long time, you can have this going at the same time, then eat it days later - maybe for a quick lunch.

Peel the beets with your fingers or a knife. Even a butter knife will work - the skin slides easily off. Grate the beets with a box grater. They make a lovely pile of juicy red sticks. Stir in the crushed garlic clove, salt and pepper.

Serve the beets on toasted whole wheat bread with some crumbled goat cheese. The beets and goat cheese go amazingly well together. This sandwich is so simple, but it's really beautiful and delicious. It also makes a striking open faced finger sandwich for a party.

Unfortunately for me, I have accumulated some fruit flies. Where do they come from? Why are they trying to take over my apartment? Why are they collecting on the bathroom mirror instead of the garbage can or something? I don't know, but I have to get rid of them. According to a google search, a quick way to get rid of fruit flies is to put a bit of fruit and a bit of vinegar or wine in a bowl, cover it tightly with plastic, and poke some very tiny holes in the plastic. The flies can get in, but (for reasons I don't understand) can't get out, and they are trapped and either die or you can remove them to nature.
I have just embarked on my first effort at catch and release. I shall update you accordingly on my successes.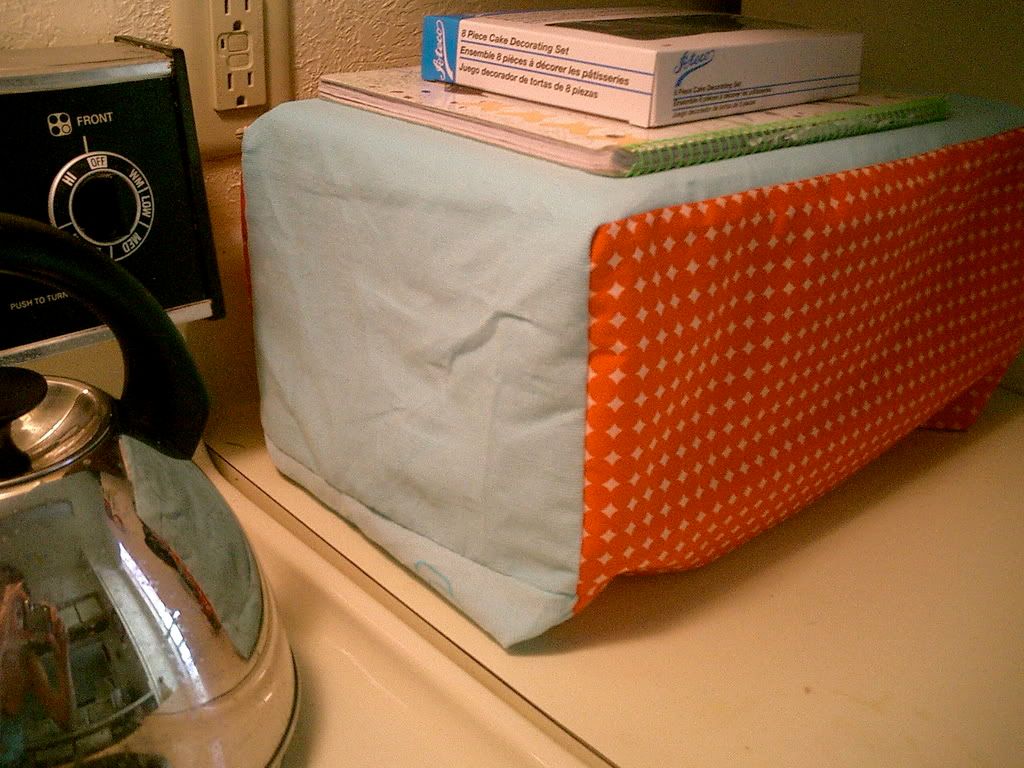 I also made my exciting new toaster oven cover! The toaster oven I have came from my mother, equipped with a very 70's brown and beige cover that said "TOASTER OVEN" on it. Cute, but not for me. So I ordered a very light blue cordory and 50's red dot pattern from
Repro Depot
and constructed my own bright cover in my favorite color combination. It took about 5 minutes and is far from an amazing development, but I like it.
You can also see, at the very bottom, a little of the design I'm going to embroider on the skirt. It's not a mistake. It's just not done yet... but soon!