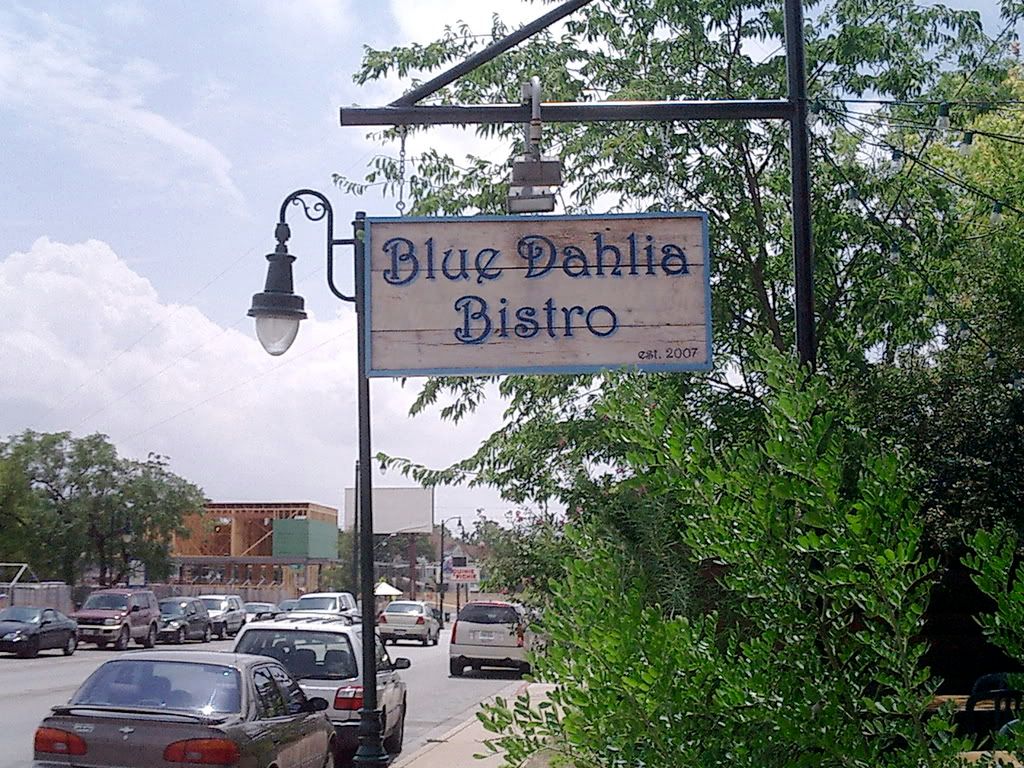 The
Blue Dahlia Bistro
is one of my favorite places to eat in Austin. It's on E. 11th Street, in the very up-and-coming, new-gentrification part of town. All changes to the city-scape aside, it's one rare and amazing place to eat.
To begin, the menu is simple but delicious. My first time there, I had the vegetarian frittata of the day, which had summer squash, red pepper and some mouth-watering cheese I couldn't identify. I also got a heavenly fresh-made lemonade with hand-cut mint. Lemons, water, sugar, mint. That is all. The fritattas are served with a side salad and some chunks of amazing bread. There are olive oil, high-quality balsamic vinegar, salt and a pepper mill on the table for you to dress your own salad, and the bread is accompanied by a trio of spreads (soft, warm Nutella, raspberry preserves and orange marmelade). Everything on the plate is so simple, but of such quality that it is almost mind blowing-ly delicious. The portions are managable. The plates are beautiful. It's the kind of place that reinforces my belief that you don't need complexity when you have quality.
My second trip, I had a brie, apricot jam and walnut tartine, which is a sort of open face sandwich on five small rounds of bread. Again, so simple. Brie, jam, bread, walnuts. A little lettuice for garnish and to eat, a slice of melon. Served on a rectangular bit of slate.
The whole menu is like this. Simple food. Tartines, a few appatizer plates, fritattas, salads, a few dinner plates, some simple desserts, a wide selection of non-alcoholic drinks, a few beers, a decent selection of wines. The thing is, it doesn't need more. It doesn't need manipulation because it's organic, high quality, local when possible so as fresh as can be.
The bistro is beautiful itself. You seat yourself in tables for 2, 4, or long tables for big parties or to sit 'family style'. It's got a simple aesthetic, with a lovely back garden area, and fresh bread and pastries available by the register. I cannot reccomend this place enough!
It got me thinking about food, as well, which... in case you couldn't tell, I do a lot! And I love that such simple things can be so amazingly good. You don't have to slave over something lavish to excite your mouth and eyes. You can, and it has it's place, certainly. But you can just get fresh local greens, a bit of dressing, and be caught up in the beauty of it all. I was inspired to make my own simple dinner after attending one night.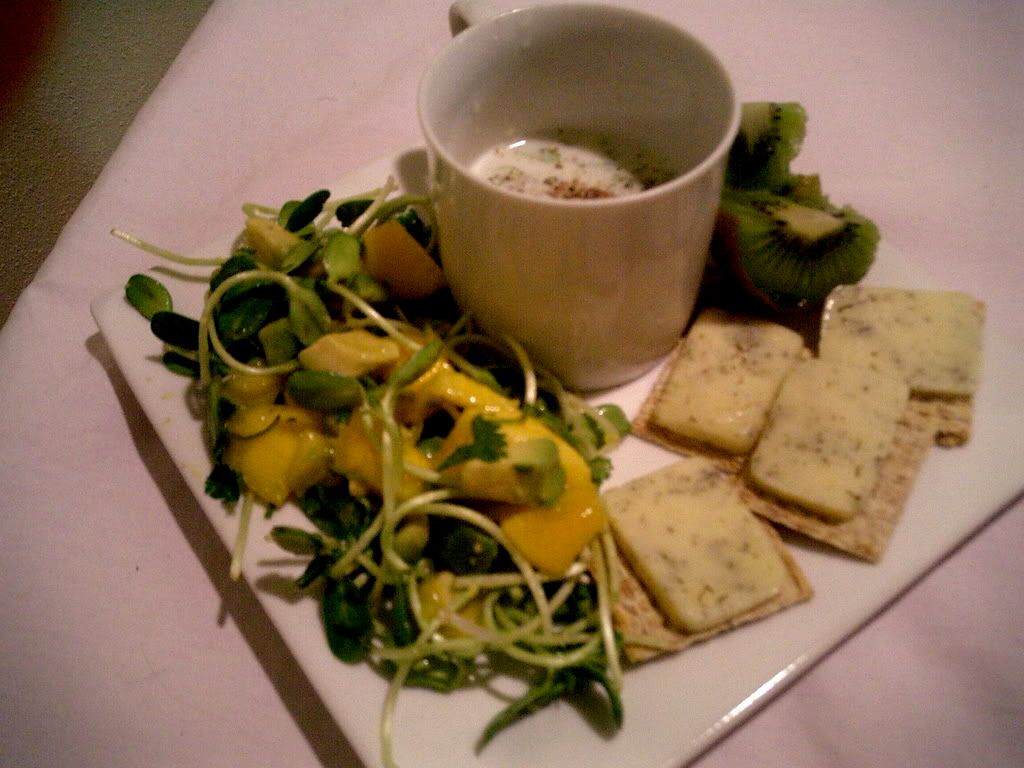 Salad: local sunflower sprouts, one diced mango, one diced avocado, a squeeze of lime, a very light sprinkling of lime salt from
Central Market
. I didn't even need a dressing! It dressed itself, which I can appreciate after a long day.
Dill Harvati Cheese and Whole Wheat Crackers from
Sun Harvest.
A sliced kiwi
Fresh yogurt from Remember When Dairy Farm from the
Sunset Valley Farmers Market
, with shredded cucumber, minced fresh mint, walnut pieces, and pepper
I know this isn't much of a recipe, but a meal doesn't really have to be a recipe to cover all your nutrional bases and appatize your eyes - not to mention your mouth!