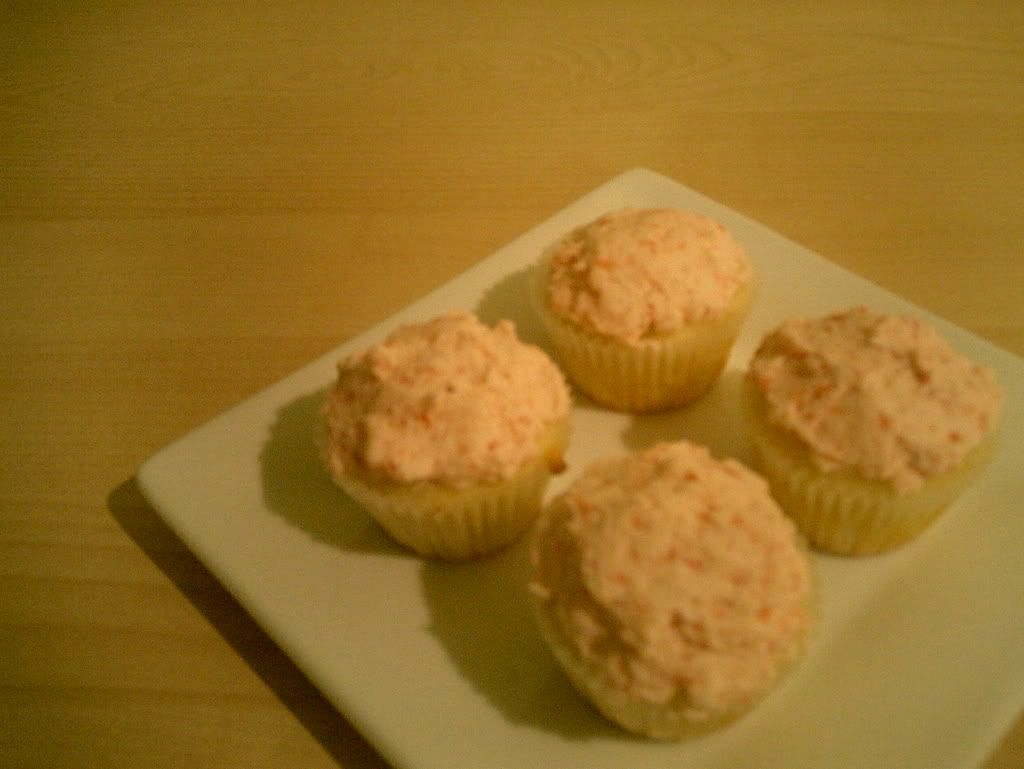 This month's Iron Cupcake challenge was to create a sweet cupcake using basil as a key ingredient. I immediately thought of two flavors: Italian and Asian. Italian was out because that might be a little too savory for a cupcake, so I went with Asian flavors. Coconut and basil are used all the time together in some of my favorite dishes! Most of those are savory too, I know, but coconut at least lends itself to sweetness as well as savory. The idea grew from there. The lychee icing sounded suitably complimentary, and I added strawberries for flavor and color. And... I have to say that this Iron Cupcake turned out even better than my last one. I could really taste the basil in this one, because of how it was added as its own element. More on that below!
Coconut Basil Mini Cupcakes with Strawberry Lychee Icing
consisting of cupcake batter, simple syrup and icing

For Simple Syrup:
8 basil leaves
1 c. sugar
1 c. water
Pour water and sugar into a sauce pan. Tear each basil leaf in half and add to the pot. Place pot over medium heat and allow the mix to come to a boil, stirring occasionally. Boil for 3 minutes then remove from heat. Let cool, then remove the basil leaves. You can store the basil syrup for a few days in the refrigerator in an airtight container.
This recipe makes too much basil syrup for this recipe, but you could use it for more cupcakes (they will go fast), or for a nice cocktail of some sort (I don't make that many fancy cocktails but I'm sure there are some out there that this would taste amazing with!).
Cupcake Batter:
1/4 c. plus 2 tablespoons softened Earth Balance Buttery Spread (or butter)
1 1/2 eggs*
3/4 c. plus 2 tablespoons sugar
1 1/2 tsp. vanilla
1 1/4 c. all purpose unbleached flour
1 1/4 tsp. baking powder
1/4 tsp. salt
1/2 c. plus 2 tbsp. coconut milk
Bring Earth Balance and eggs to room temperature. Beat the Earth Balance until soft, then beat in the egg and a half, one at a time. Beat in the sugar until the mixture becomes creamy. Beat in the vanilla Set aside. Combine the flour, baking powder and salt. In alternating batches, starting with the flour mix, beat the flour and the coconut milk into the butter mix until all 3 components are just mixed.
Preheat oven to 375. Line mini cupcake tins with papers. Scoop a little of the mix into each cup. Then, sprinkle some simple syrup onto the top of each cupcake. I used one of those squeeze ketchup bottles you can get for a few cents, and squirted a little syrup onto each. Bake the cupcakes for 10 minutes until a toothpick inserted comes out clean. It was a little hard to tell how done they were from looking, as these cupcakes are very, very white. Once you remove them from the oven, sprinkle a little more basil syrup on top and let cool for 10 minutes in the tins, then remove and cool completely on a wire rack before icing.
Strawberry Lychee Icing
5 strawberries
5 canned lychees, rinsed of their canning syrup and patted dry
1 stick of Earth Balance Buttery Spread or butter, softened but not totally soft
1 1/4 c. powdered sugar
In a food processor or mini prep, blitz the strawberries and lychees so they are a fine puree. Set aside. Beat the Earth Balance, then, in small increments, beat in the powdered sugar. Once it is all together, beat in as much of the fruit puree as you wish. This will make the icing less smooth, so use your discretion as to how rustic you want it to look. If you want, you might add some red food coloring, but I was happy with the nice pink color.
To finish the cupcakes:
Drip a few more sprinkles of basil syrup on top of the cupcakes to seal the top, then ice with the icing.
These cupcakes have a lovely flavor stream, going from the sweetness of the icing to the freshness of the basil, then finishing with the coconut basil flavors.
* I know, I know. But I wanted to make enough to only fill one pan of 24 mini cupcakes, so I had to use about half of a regular recipe, which usually uses 3 eggs. I just whisked the one egg and added half of it to the mix and threw the other half away. If you want to, you could freeze the other half. It might sound silly but I hate to waste even half an egg, and since if use half eggs as often as I do, in halving recipes, it might prove to be useful.